!!!ONE MORE!!! FERENC NEMETH / FNTrio
UN TUBO JAZZ NIGHTS / GIOVEDI' 08 MARZO
!!!ONE MORE!!!
FERENC NEMETH / FNTrio

Ferenc Nemeth: drums
Tzumo Olah: piano
Gregory Tardy: saxophone
FERENC NEMETH- an exciting performer and imaginative collaborator – is well regarded for his work with the who is who in Jazz, including multiple GRAMMY award winning artists such as Herbie Hancock, Wayne Shorter, Joshua Redman, John Patitucci, Mark Turner, Russell Ferrante…etc.
Ferenc's new project is based on Hungarian music (getting back to his roots), combined with his 20 years experience in New York, plus improvisation and electronic sounds to make the music more relevant. The mix is a modern adaptation of old soulful melodies with a great variety of rhythmic content, improvisation and some interesting sound Textures.
"The other very interesting part of this music is that I am using a vocal harmonizer. This little electronic tool enables me to use my voice as a synthesizer andcreate new textures. I like to think that today's music is evolving very fast and with the help of the internet, we have access to listen to anything at any time. That makes today's music global.There are a great variety of cultures andeach culture has its own music. We can mix and match whatever we want. But by playing music there's one important responsibility left. To play it authentically and honestly. That's what I am always aiming for and this is my best project so far to represent that." Ferenc Nemeth

IT'S A MUST SEE PERFORMANCE!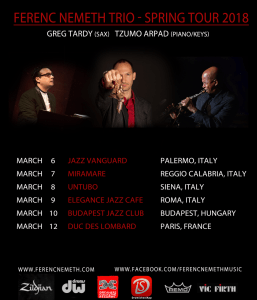 ***"Ferenc Nemeth represents the new breed of post-Art Blakey jazz drummers, ushering in their own bravado and confident leaders hip."
–ALL ABOUT JAZZ
***"Ferenc Nemeth is a nimble Hungarian drummer with a feel for African rhythm."
–NEW YORK TIMES
 Gregory Tardy was born into a musical family, began his musical career studying classical clarinet. At the prodding of his older brother, Tardy finally explored the music of John Coltrane, and determined to be a jazz musician.  While in New Orleans, Tardy als o played with some of the local brass bands, did some gigging with the Neville Brothers, Allen Toussaint, and groups of all styles. In 1992 he was picked up by Elvin Jones Jazz Machine, a relationship that lasted several years. In New York, he went on to perform and record with an extremely large array of prominent artists including: Tom Harrell, Dave Douglas, Wynton Marsalis, Jay McShann, Steve Colem an, Betty Carter, James Moody, Bill Frisell, Rashied Ali , John Patitucci, and many more.
Tzumo Árpád was born in 1980 to a Gipsy family. From the age of seven he studied classical music but later he switched to jazz and got a full scholarship to Berklee College of Music and in 2003 he applied and got accepted to the Prestigious Thelonious Monk Institute of Jazz. He has performed with the Monk Institute Band.
[prenotazioni: 0577 271312 / circolo@untubo.it / prima consumazione al tavolo 15 euro – studenti 10 euro]