!!!ONE MORE!!! THE CLAUDIA QUINTET
UN TUBO JAZZ NIGHTS / GIOVEDI' 02 NOVEMBRE
!!!ONE MORE!!!
THE CLAUDIA QUINTET
 Jeremy Viner  clarinet/tenor saxophone
Red Wierenga  accordion
Adam Hopkins  acoustic bass
Matt Moran  vibraphone
John Hollenbeck  drums/composition
SHORT BIO:
Formed in 1997 by composer, drummer and four-time GRAMMY nominee John Hollenbeck, The Claudia Quintet is one of the most innovative groups to spring from the creativity of New York's downtown music scene. Hollenbeck named the band for an effusive audience member at an early show who vowed to return for future performances and never did – an act which sparked the imagination of the drummer and gave him a moniker to fit the collective ensemble he envisioned. The band boasts unique instrumentation and a lineup composed of some of the finest exploratory instrumentalists in modern jazz. The Claudia Quintet has remained true to its original mission of creating distinctive improvisational chamber music that defies categorization. Over the course of eight critically acclaimed albums, the ensemble has been a highly effective, exceptionally varied vehicle for Ho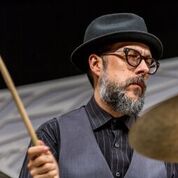 llenbeck's music, which reflects influences ranging from jazz to chamber music to varied folk forms and Brazilian rhythms. The Claudia Quintet will be performing new works in celebration of their latest release "Super Petite" on Cuneiform Records.
In the Claudia Quintet, Hollenbeck has assembled a group of the foremost innovators in this new sound to create a powerhouse band. They are: Matt Moran – vibraphone (Slavic Soul Party, Mat Maneri, Nate Wooley);  Red Wierenga – accordion (Respect Quartet, Signal, Brad Lubman); On this tour, Jeremy Viner (Steve Lehman, Tyshawn Sorey) ; Adam Hopkins (Christopher Hoffman, Matt Mitchell, Ideal Bread)
[prenotazioni: 0577 271312 / circolo@untubo.it / prima consumazione al tavolo 15 euro – studenti 10 euro]
You can hear our new cd here!
https://cuneiformrecords.bandcamp.com/album/super-petite
CRITICS:
"This is post-music. Some jazz, some folk, some pop-rock, some minimalism, some of this influence and more of that influence—and all of it is one step ahead of the current day. It's the Music of Tomorrow, now." – Dave Sumner, Bandcamp
"Rigorously executed but earthily grooving, dauntingly precise but flecked with hearty and intriguing improvised solos, the quintet's set buzzed with freshness and vitality from start to finish. … For all the obvious effort and intelligence to Hollenbeck's work, his songs could ultimately be straightforwardly emotional and moving."
– Peter Hum, Ottawa Citizen
"Super Petite is like savoring a long and lingering feast. There is much to enjoy, concentrate on, uncover and sample. The ten tracks each offer a morsel, and the full repast is oh so delicious."
–Doug Simpson, Audiophile Audition
"The bottom line? Every member of Claudia Quintet is a virtuoso; and while that may be true, the beauty of Claudia Quintet is that it's a collection of five outstanding players whose focus is on the music, not unnecessary displays of pyrotechnics…though there was certainly more than a few sparks flying during their Back Stage appearance."
–John Kelman, All About Jazz