ticket&table&drink 15 euro
!!!ONE MORE!!! MIKKEL PLOUG trio
UN TUBO JAZZ NIGHTS / MERCOLEDI' 21 NOVEMBRE
!!!ONE MORE!!!
Mikkel Ploug trio
Mikkel Ploug – Guitar
Jeppe Skovbakke – Bass
Sean Carpio – Drums
The trio is building on 14 years of experience interpreting Mikkel's ever evolving repertoire, often described as melodically strong, highly original in harmonic character, yet very approachable and inviting. Mikkel started on drums at the age of four but switched to the guitar in his teens. He graduated as Master of jazz guitar from the Royal Conservatory of The Hague Holland with a special distinction for his original composition.
Mikkels latest solo album has received more than a million plays on Spotify and praise from all over the world.
Mikkel Ploug is the latest sensation in European jazz guitar scene with a personal voice and sound that sings - La Vanguardia ES
Masterclass – the danish guitarist Mikkel Ploug is on the way into the Champoins League of contemporary jazzguitarists – Jazzpodium DE
Mikkel's Alleviations album is simply a gorgeous work of art. – Prof. John Thomas – Fretboard Journal USA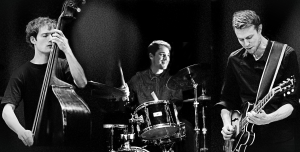 .."one of the most intriguing and best-recorded acoustic guitar albums of recent years." Where so many guitarists fall back on bravura displays of technique, Mikkel Ploug treads an alternative path, one where virtuosity is subsumed to the greater aim of tone production and care in shaping the form of compositions. Alleviation is a work of outstanding musicianship Mark Werlin – US All About Jazz
http://www.whirlwindrecordings.com/at-black-tornado/
https://soundcloud.com/mikkel-ploug/sets/mikkel-ploug-trio-unreleased/s-munLZ
[prenotazioni: 0577 271312 / circolo@untubo.it / prima consumazione al tavolo 15 euro]